Experience Florence, Tuscany and the birthplace of the Renaissance while visiting Greve Opera Academy & Music Festival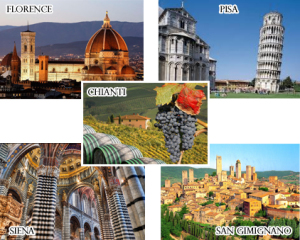 Connecticut Lyric Opera and the Greve Festival have put together a special 10-day tour for supporters of CLO, friends and families of the attendees of the Greve Opera Academy and Music Festival, or anyone interested in experiencing the culture and beauty of the incredible Chianti Classico region, Florence and Tuscany. Included in the package are deluxe hotel/B&B accommodations and sumptuous meals, attendance at multiple festival performances, sightseeing in Florence, Siena and other Tuscan towns, visits to local vineyards, as well as exclusive insider-only access to castles and other interesting sites. Optional activities include Tuscan cooking classes, spa visits, private after-hours museum tours, and more.
Price of $1950 per person double occupancy includes 9 nights deluxe accommodation; ground transportation to/from Rome airport and all scheduled activities; breakfast for all days, as well as 4 dinners and 2 lunches during tour; local tour guides; concert, museum and activity fees for all scheduled events. Airfare not included.
PRELIMINARY ITINERARY*
June 24 – 4, 2018
Day 0 – USA to Florence
Day 1 – Arrive; Piazzale Michelangelo
Day 2 – San Gimignano; Opera "Aida"
Day 3 – The Heart of Chianti: Greve and Radda
Day 4 – Siena: Duomo, Piazza del Campo
Day 5 – Chianti wine tour
Day 6 – Pisa & Lucca; Festival Concert
Day 7 – Florence: Duomo, Palazzo Vecchio, Uffizi; Festival Opera
Day 8 – Optional Activities: Tuscan Cooking Class, Thermal Spa, more
Day 9 – Florence: David, Santa Croce; Opera "Carmen"
Day 10 -Florence to USA
* days/activities subject to change within timeframe of tour
From attendees of previous tours:
As parents of one of the opera students in the Greve Festival, we had the great fortune to participate in the tour arranged by CLO as we stayed in the wonderful town of Greve in Chianti. They put together a fantastic program of events, not only to see the major attractions in the area (eg Sienna and Florence), but to get behind the tourist façade and experience the region in a highly personal way… You are able to learn, but also quietly explore on your own… The tour is personal, flexible and of a size that it is possible to bond as a group and see the sights in a low-key way. The dinners arranged are intimate and likewise of a size that does not feel like you are "descending on a tourist restaurant with a big tour bus". The key is that CLO makes it easy to tour this wonderful region, partake of its rich history, beauty and cuisine; and do it in the personal way that only a private small group can experience. And what treat that as part of it you get to hear wonderful singing by young, committed vocal artists! You will fall in love with Italy after coming to this festival and letting CLO be your guide.
JF & CB, Massachusetts

Can't thank you enough for taking [my granddaughters] on such an inspiring trip! A private tour – WOW!! You have changed their lives forever!!! Their Mom writes that they had an awesome time! And I must say I am very proud of them for sopping it all up with such enthusiasm!
GF, Connecticut

My daughter and I were "tourists" while my other daughter participated as a student in the opera company… We were regaled with history and local lore on the trips to the beautiful cities… making potentially complicated tours very accessible and easy. I can not say enough good things about our experience with CLO touring Tuscany.
CM, Massachusetts